The Sign of the Son of Man
Saturday, November 22, 2014
"For such are false apostles, deceitful workers, transforming themselves into the apostles of Christ. And no marvel; for Satan himself is transformed into an angel of light. Therefore it is no great thing if his ministers also be transformed as the ministers of righteousness; whose end shall be according to their works." (Paul, 2 Cor 11:12-15)

"And now, when Moses had said these words, Satan cried with a loud voice, and ranted upon the earth, and commanded, saying: I am the Only Begotten, worship me." (Moses 1:19)
We assume that because we have a knowledge of the restored Gospel we will be able to detect false spirits when they make their appearance. Joseph wrote to the saints and bemoaned their ignorance when it came to spiritual communications. He noted many cases from the Bible and their recent history how difficult it is to detect false spirits and Satan when he attempts to say many true things in his appearance as a holy angel come from the presence of God.
"No man knows the spirit of the devil, and his power and influence, but by possessing intelligence which is more than human, and having unfolded through the medium of the Priesthood the mysterious operations of his devices; without knowing the angelic form, the sanctified look and gesture, and the zeal that is frequently manifested by him for the glory of God, together with the prophetic spirit, the gracious influence, the godly appearance, and the holy garb, which are so characteristic of his proceedings and his mysterious windings." (HC 4:33)
Even Lehi, after tasting of the Goodness of God was able to be deceived in a vision:
"And it came to pass that I saw a man, and he was dressed in a white robe; and he came and stood before me. And it came to pass that he spake unto me, and bade me follow him. And it came to pass that as I followed him [for many hours] I beheld myself that I was in a dark and dreary waste." (1 Nephi 8:5-7)
The leaders of the Jews thought they could detect evil and reckoned that the Savior was actuated by the power of Satan.
"But when the Pharisees heard it, they said, This fellow doth not cast out devils, but by Beelzebub the prince of the devils." (Matthew 12:24)
What of the Jews? Could they detect the spirits which animated their leaders? Were they men of God? Did they keep them from going astray?
Would we have been any keener in our ability to detect this man? Many believed Jesus because of the miracles, but were offended at his teachings and would no longer follow Him. When this cleansing occurred, he looked at the twelve an lamented, "Will ye also go away?"1
We capitalize His pronouns, celebrate several holidays in His honor with beautiful and stirring Christmas hymns, and heap praise upon the Savior; but without all the grandeur, with the opposition from the leaders of the Lord's "true" church, the threat of excommunication, rejection, shame, humiliation; the insecurity of following a leader who, after all, died an ignominious death by a foreign nation, and His cousin who was beheaded, and these stinky fisherman who claim to know who He is; do we know where our hearts would be?
Who was he? What did he do? What is the Sign of the Son of Man? What signs and tokens does he hold? How is he recognized? How are His servants recognized?
It is important to know, because only by knowing the Son of Man, that is who and what we worship, can we expect to have a hope of Eternal Life.
When I read the Gospels, I usually take it as a foregone conclusion that I would have believed in Jesus. But I wonder if I really would have. Here we have Joshua, a very common name, a son of no-one. His brothers were so-and-so, his sisters we know. He had no authority or position in the church, and was even cast out of the synagogue. His closest friend was imprisoned and killed by the state. The only thing to recommend him were His teachings. Did his teaching about his flesh stir the hearts of his followers? As we just saw, it was his un-stirring teachings that caused his followers to leave, they found his teaching offensive. Did he have God's authority? You wouldn't know it by the honors of men he held. Was he a deceiver? All the church leaders claimed he worked by the power of Satan.
What do men value as comeliness and beauty? Position, power, wealth, prestige, acclaim. These are the things men value, and the yardstick by which they estimate the value of others. Who would believe the report of this man? Would others who had His authority come in the same way? Did Joseph?
"Who hath believed our report? and to whom is the arm of the Lord revealed? For he shall grow up before him as a tender plant, and as a root out of a dry ground; he hath no form nor comeliness; and when we shall see him, there is no beauty that we should desire him. He is despised and rejected of men; a man of sorrows, and acquainted with grief; and we hid as it were our faces from him; he was despised, and we esteemed him not.Surely he hath borne our griefs, and carried our sorrows; yet we did esteem him stricken, smitten of God, and afflicted." (Isaiah 53:1-4)
It was, I believe so difficult to identify and regard this man as it was for the rich man to be saved, and we ought to wonder with his followers when they said with amazement, "Who then can be saved?"
What little we know about Enos, we can detect he was a man who exhibited some of these signs.
"And after I, Enos, had heard these words, my faith began to be unshaken in the Lord; and I prayed unto him with many long strugglings for my brethren, the Lamanites. And it came to pass that after I had prayed and labored with all diligence, the Lord said unto me: I will grant unto thee according to thy desires, because of thy faith.

"And now behold, this was the desire which I desired of him—that if it should so be, that my people, the Nephites, should fall into transgression, and by any means be destroyed, and the Lamanites should not be destroyed, that the Lord God would preserve a record of my people, the Nephites; even if it so be by the power of his holy arm, that it might be brought forth at some future day unto the Lamanites, that, perhaps, they might be brought unto salvation—For at the present our strugglings were vain in restoring them to the true faith. And they swore in their wrath that, if it were possible, they would destroy our records and us, and also all the traditions of our fathers.

"Wherefore, I knowing that the Lord God was able to preserve our records, I cried unto him continually, for he had said unto me: Whatsoever thing ye shall ask in faith, believing that ye shall receive in the name of Christ, ye shall receive it. And I had faith, and I did cry unto God that he would preserve the records; and he covenanted with me that he would bring them forth unto the Lamanites in his own due time. And I, Enos, knew it would be according to the covenant which he had made; wherefore my soul did rest. And the Lord said unto me: Thy fathers have also required of me this thing; and it shall be done unto them according to their faith; for their faith was like unto thine.

"And now it came to pass that I, Enos, went about among the people of Nephi, prophesying of things to come, and testifying of the things which I had heard and seen. And I bear record that the people of Nephi did seek diligently to restore the Lamanites unto the true faith in God. But our labors were vain; their hatred was fixed, and they were led by their evil nature that they became wild, and ferocious, and a blood-thirsty people, full of idolatry and filthiness; feeding upon beasts of prey; dwelling in tents, and wandering about in the wilderness with a short skin girdle about their loins and their heads shaven; and their skill was in the bow, and in the cimeter, and the ax. And many of them did eat nothing save it was raw meat; and they were continually seeking to destroy us."
Enos was first concerned for his own people, his closest kin and he prayed for them. We don't know how many days or years went by as Enos was tutored by the Lord or how long it was before his heart was, in reality, drawn out towards those who tried to kill, murder, rob and plunder his family, but it was as Joseph taught "Love is one of the chief characteristics of Deity, and ought to be manifested by those who aspire to be the sons of God. A man filled with the love of God, is not content with blessing his family alone, but ranges through the whole world, anxious to bless the whole human race." (Joseph Smith, TPJS section 4, page 174)
This is not an untested sign, where one may, within his heart, in a feeling of benevolence feel love towards all people, but it is a tested sign where if that love is not unfeigned he will not endure when trials created by those whom he claims to love ensue.
John the Baptist came, looking rough, and eating disgusting food (devouring the devourers), he likewise had nothing to recommend him, except for the witness of his father. Enoch, was regarded as a wild man, Jeremiah was rejected by his people and was thrown in a sewer. Would Jeremiah's teachings been of note because of his position? Because of his lack of facial hair, because of his clean white shirt? Jeremiah had the hope of a better world and this was his peace though all around may cry out and gnash their teeth.
"I do not want you to think that I'm very righteous, for I am not. There was one good man, and his name was Jesus." (Joseph Smith, DHC 5:401) When Christ came among the Jews and Nephites, he bore witness of someone greater than himself.
The title Son of Man is itself a mark of humility and sacrifice. He is God, but he has condescended to use the title of Man. He is one of us, we can and should become like Him by the things the Lord requires that we suffer. This is not to remove any majesty from. But He speaks to us patiently, in long suffering, in our own language, in plain humility as one man speaketh with another.
The Sign of the Son of Man is not only the way the Savior is identified, but it is a mark of authenticity upon those who follow Him. It is a way we can judge all spirits, angels, principalities and powers as well as the mortal beings we interact with every day, as well as the unseen world. It is how we detect our own progression.
We must make sacrifices in the similitude of the Only Begotten who was despised and rejected of men, or we cannot come where He is.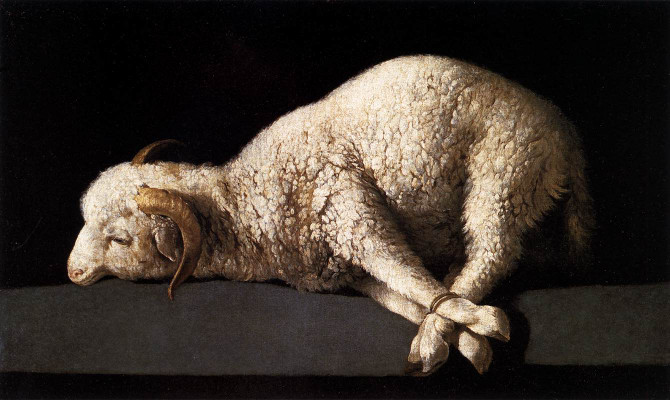 --
Notes
1. John 6:66-67
Additional Notes
This is a note I reproduced from a friend in a bishopbric who was recently excommunicated because he was rebaptized, his confidence betrayed by a friend.
"On a more serious note, I am beginning to see a bit more clearly what is expected of someone who follows Christ. He said to do the things that we saw him do. To me that means that we will likely face rejection, betrayal and persecution while we try to follow the path he took. It's part of the fellowship of the suffering of Christ that we promise to join as we take his name upon us. Think of the 3rd token - you reach for fellowship and receive a wound instead - a wound that is received in the "house of your friends" - it's part of the process, and tells you where you are on the path to the Father when you experience it. Perhaps one day you will be able to lead the very ones who don't understand you and reject you to their own salvation. Your suffering will open a path for them to follow just like Christ opened the path that you're currently following." (Brian B.)
See also Mattew 10:16-41, D&C 52:14-20
--
I wrote this on 9/30/2014 as one of the first posts of this blog and wrote it before this post which is similar. I am only now getting around to digging it out and posting it.