Christ is the Prototype of the Saved Man
Tuesday, October 21, 2014
I wrote this in response to a friend who was very worried about me in regard to my beliefs and because I was giving heed to those who she considered to be reprobates attacking the church. I said: "I appreciate your very kind words, and I would expect you to be concerned and I appreciate that as well. I haven't lost my testimony of the restoration, its stronger than it has ever been. We love you too and have appreciated the mutual support we've felt over the years." As she continued to post in great concern, I couldn't think of any response that wasn't argumentative. I told the Lord repeatedly, "Thou knowest thy daughter, thou cans't soften her heart. I know nothing. Please help me if thou desirest me to respond." I fell asleep at midnight reluctantly leaving it in the Lord's hands. As I was on my daily walk today, this came to me, for which I was profoundly grateful.
--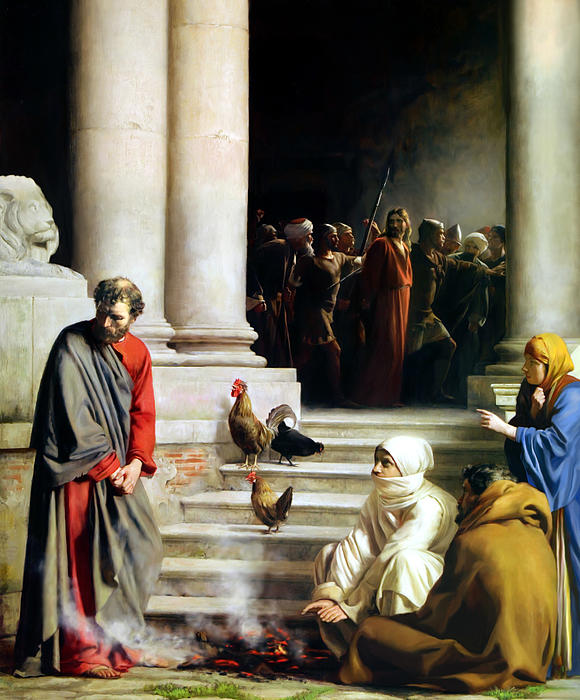 Christ is the prototype of the saved man. Christ who was despised and rejected by those of his own faith, who by their estimation had no apparent beauty. Christ who's followers that believed him, even under the threat of excommunication from the synagogue, also left him because they could not bear his words. Christ who was accused of having a devil, working by the power of the devil and being the devil's emissary; who Peter denied because he was afraid and regarded the opinion and danger posed by men. Christ who's contemporaries regarded him like Job: smitten and afflicted by God. Christ who was put to death by the household of his own faith.
This is the prototype of the saved man. When he told His followers that there would be few who found him, it was because if the intense persecution that was heaped upon those who started in the path many would not be able to endure. Not millions.
This is the one of the signs of the Son of Man. And we should not be surprised when we are called to make the same sacrifice if we desire to follow Him.
"I am a worm, and no man; a reproach of men, and despised of the people. All they that see me laugh me to scorn: they shoot out the lip, they shake the head, saying, He trusted on the Lord that he would deliver him: let him deliver him, seeing he delighted in him. But thou art he that took me out of the womb: thou didst make me hope when I was upon my mother's breasts. I was cast upon thee from the womb: thou art my God from my mother's belly. Be not far from me; for trouble is near; for there is none to help.

"Many bulls have compassed me: strong bulls of Bashan have beset me round. They gaped upon me with their mouths, as a ravening and a roaring lion.

"I am poured out like water, and all my bones are out of joint: my heart is like wax; it is melted in the midst of my bowels. My strength is dried up like a potsherd; and my tongue cleaveth to my jaws; and thou hast brought me into the dust of death.

"For dogs have compassed me: the assembly of the wicked have inclosed me: they pierced my hands and my feet. I may tell all my bones: they look and stare upon me. They part my garments among them, and cast lots upon my vesture. But be not thou far from me, O Lord: O my strength, haste thee to help me." (Psalms 22:6-19)
We look at Christ today and have transformed him into a mythical figure who everyone loves except for a few reprobates. History honors Him, his teachings, his example and life. However this was not his life. How can we think "If we were alive in the days of the prophets, or even the great Prophet we would not have stoned them, we would have believed."
Christ told his followers to be not dismayed when all manner of evil is spoken against them falsely, for if they would do it to the king's son, they would surely do it to his servants.
Follow the Spirit, do what you believe to be true, but do not be afraid of words because you think they may do damage to you, or because you think they have damaged me. It is a trick of the devil to prevent any discovery. We should not look beyond the mark, but if we don't come up all the way to the mark, as Joseph teaches, we will find our souls not saved. That mark is Jesus Christ and not some man who declares he will tell you what you need to think, and that you need to come to him and no further. Nephi declared that Christ employs no servant at the door of salvation, and the way is free, open to all.
Be free.
--
I cannot tell how grateful I am for this. It makes me want to shout hosannas saying "In the name of Jesus Christ, be free!"
See Also
Isaiah
"Who hath believed our report? and to whom is the arm of the Lord revealed? For he shall grow up before him as a tender plant, and as a root out of a dry ground: he hath no form nor comeliness; and when we shall see him, there is no beauty that we should desire him. He is despised and rejected of men; a man of sorrows, and acquainted with grief: and we hid as it were our faces from him; he was despised, and we esteemed him not. Surely he hath borne our griefs, and carried our sorrows: yet we did esteem him stricken, smitten of God, and afflicted." (Isaiah 53:1-4)
King Benjamin
"And lo, he cometh unto his own, that salvation might come unto the children of men even through faith on his name; and even after all this they shall consider him a man, and say that he hath a devil, and shall scourge him, and shall crucify him." (Mosiah 3:9)
Abinadi
"And thus the flesh becoming subject to the Spirit, or the Son to the Father, being one God, suffereth temptation, and yieldeth not to the temptation, but suffereth himself to be mocked, and scourged, and cast out, and disowned by his people." (Mosiah 15:5)
From Lecture 8, A Broken Heart and Contrite Spirit:
"Ether chapter 3, verse 18: 'And he ministered unto him even as he ministered unto the Nephites; and all this, that this man might know that he was God, because of the many great works which the Lord had showed unto him.' [This is how God is known: by His works. It is not the lightning show, nor the shaking on the mountain, but it is the great works that proceed forth from Him.]

"Think about what He did when He appeared on to the Nephites. God introduced Him three times before the people who are there were finally able to listen with their ears and hear the introduction. Then after the introduction was given, they still see Him descend dressed in white to stands before them. Despite the introduction, despite His descent, despite Him standing in front of them, all they conclude is, 'This must be an angel.'

"Clearly He arrived in a way that is extra-human. He manifested Himself as being able to use the law of gravity in a ways we can't. He descended, stood before them, but none of them were overwhelmed. None of them fall down and worship Him. None of them do anything but look at Him. He was so plain, so ordinary, so commonplace in the appearance He made, that when they saw Him, they stood rather like tourists staring at this man dressed in white who appeared to them. Then He spoke and told them who He was. He introduced Himself in 3 Nephi chapter 11 verse 11. Three times, in order for Him to tell who He is, He talks about obeying the will of the Father, suffering the will of the Father in all things, glorifying the Father by taking upon Himself the sins of the world. Even standing in front of them, He bore testimony of someone greater than Him.

"It was the humility of the individual standing in front of them, and His introduction in 3 Nephi, that brought them to their knees. They fall down at that point and worship Him. Because when He opened His mouth and they understood what He was, and who He was, and what proceeded forth out of His heart, they knew they were listening and looking at God indeed. Then they fell down and they worship Him."
From Lecture 7, Christ: The Prototype of the Saved Man:
"'And how the chief priests and our rulers delivered him to be condemned to death, and have crucified him. But we trusted that it had been he which should have redeemed Israel: and beside all this, to day is the third day since these things were done. Yea, and certain women also of our company made us astonished, which were early at the sepulchre; And when they found not his body, they came, saying, that they had also seen a vision of angels, which said that he was alive. And certain of them which were with us went to the sepulchre, and found it even so as the women had said: but him they saw not.' So they thought Him a prophet, and hoped He was something more. They 'trusted that it should have been Him who would redeem Israel.' This was the day of His resurrection and they've heard rumors from women He was risen. But these were, first of all, merely rumors, and second of all, they were rumors attributable to women, and we all know that women are hysterical, and therefore require hysterectomies in order to rein them in, and turn them into something credible and believable [Sarcasm]. I put a comment up on the blog a few days ago about women as witnesses, and this is a reflection of that same phenomenon. Doubt is easier when the source of the information is the testimony of a woman, even though it ought not be so.

"Now ask yourself: if you trusted this was Him who should have redeemed Israel, did He? Did He redeem Israel? He came, He taught, He submitted, He was killed, and it was three days since. In that circumstance, even with the rumors from the women, could you see that He had redeemed Israel? If you were part of the population, in that group, on that day, sitting in that environment, how would you answer the question of whether He redeemed Israel? The Romans were still there, Annas and Caiaphas were still faring sumptuously, Christ was killed, His disciples had been scattered, so what evidence did they have He had redeemed Israel. There were many things to suggest the contrary. (Later, even after His disciples see Him, they would return to their everyday labor.) Did He redeem Israel? Could you have seen it then? When it was happening before the eyes of these disciples, they could not see it. They could not comprehend how it had taken place.

"Because you sing on Sundays the hymn 'Redeemer of Israel' you have confidence you know what Christ accomplished. He IS the Redeemer. You proclaim this as if it were so very apparent. It is no more apparent in this account in Luke that the redemption of Israel had been accomplished, than it is apparent to you what God is doing now, today. You do not even hear what is now sounding in your own ears.

"He came and He redeemed Israel, and all the world missed it! Even His closest disciples doubted what had happened. It would be hundreds of years before the world would come around to acknowledge Him. By the time the world would come around to acknowledge Him, what was then left was inadequate to still redeem.

"The day of salvation appears tenuously, almost as gossamer as a spider web, and if you don't lay hold of it, it is lost. Then generations can come and go while singing hymns to the pride of their ancestry and the greatness of their religion, while they all go to hell. Because when the Lord sets His hand, He sets it exactly the same way every time. It always requires faith to come aboard, and requires faith to even see it is underway. The Lord does not work except by faith.

"'Then he said unto them, O fools, and slow of heart to believe all that the prophets have spoken: Ought not Christ to have suffered these things, and to enter into his glory?' They and you do not understand. You do not understand because the prophets have said this is exactly what our Lord would do.

"Should not Christ have suffered? Should not He have come in apparent weakness and vulnerability? Should not He have come in the very manner in which He appeared, and then to have suffered just as the prophecies foretold? Is not the pattern always the same? Does not God manifest Himself to the world through the weak things first?"
See article: The Sign of the Son of Man